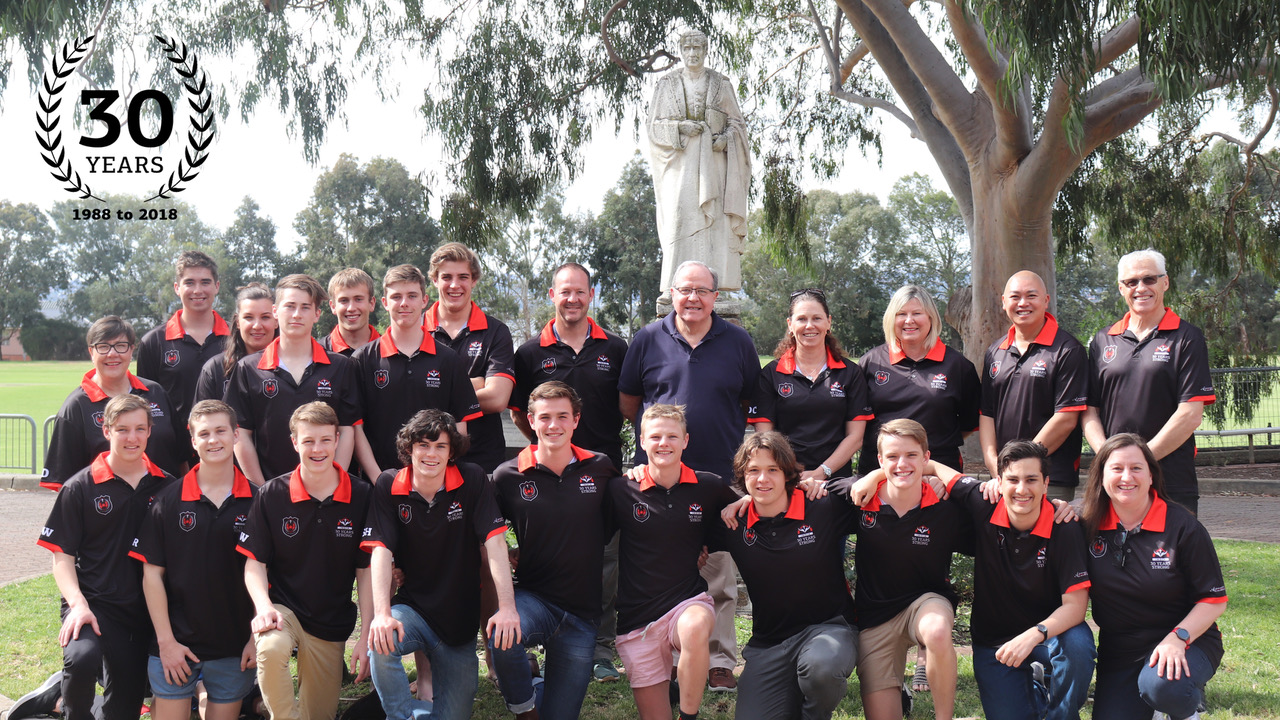 At their annual Presentation Night in Adelaide, 14 students and eight staff members were presented to the assembled community. They were the 16th group from the college since 1988 to embark on a Pilgrimage through India. During their time in India the will spend time with the children of MITHRA.
Br Rob Callen was asked to say a few words to commemorate the 30th Anniversary and to bless the group. He recalled how the pilgrimages began; how in response to a story he told about Irish students putting their faith in action by volunteering during their summer holidays to assist unaccompanied pilgrims with disabilities in Lourdes (France), one of his Rostrevor Year 9 students asked, "Brother, why can't we do something like that?" Br Rob assured him there were daily opportunities to put his faith into action. For three weeks the student persisted with the request, until some weeks later he told Br Rob that his mother was coming to the college to see what could be done. This forced Br Rob into action! It seemed that an overseas service trip had been born!
Not knowing what was possible, and with no precedents with other schools, Br Rob could only think of one possible contact. At that very time, Br Trevor Dean, a former teacher from Rostrevor was taking a sabbatical in India, so Br Rob contacted him as asked whether he had come across any places or situations where unskilled teenagers would be able to help. To his surprise, Br Trevor said, "Rob, I am here at the very place! It's called MITHRA, and it's a centre for special children with multiple disabilities from very poor families in Madras (Chennai). It was founded by an Australian nun, Sr Mary Theodore (May Asmar), and she would welcome you with open arms. She believes her children would benefit enormously from interaction with Australian students!"  And so from that moment the Rostrevor Pilgrimage through India was born. In 1988, the first Rostrevor group set out for India.
The thirty-year partnership between Rostrevor College and the MITHRA Rehabilitation Centre in Chennai has been unique and special. The Rostrevor community: parents, staff and students, works tirelessly and with enormous generosity to raise funds through "Red & Black" Discos, UnFair Days and other initiatives to ensure the viability of MITHRA. With no government assistance, MITHRA is dependent on the generosity of Australian friends.   Since the death of Sr Mary Theodore, three Servite Sisters and dedicated staff struggle to ensure that the essential services of education, therapy and nutrition continue at MITHRA. But it is only through the guarantee of support from Rostrevor College and other Australian supporters through Friends of Mithra, that the Sisters can plan with confidence.
After the presentation of the group to the school community, Br Rob gave a blessing on behalf of the community, asking God for His special protection for these pilgrims as they set foot on holy ground not knowing what "treasures" await them in India.