Mithra began in 1977 and was founded by Sister Mary Theodore (a Catholic nun from Brisbane) in response to a serious need she saw in the slums of Madras. At that time, and still even today, children with disabilities are catered for if their parents can afford such services. But Sr Mary Theodore saw that children with disabilities in the slums were neglected. Her mission was to convince their parents that all of these children had potential and could be educated and rehabilitated to a greater or lesser extent. After she acquired the land on the outskirts of Anna Nagar, she and her helpers would visit families and win their trust and confidence. She encouraged the parents to bring these children to her new centre. The original Mithra was built with the simple and typical South Indian thatched building materials, until Sister could visit friends and family in Australia to seek donations, and build more substantial buildings.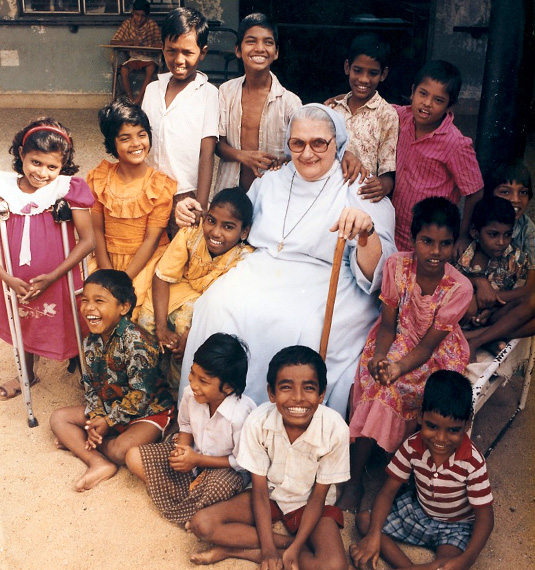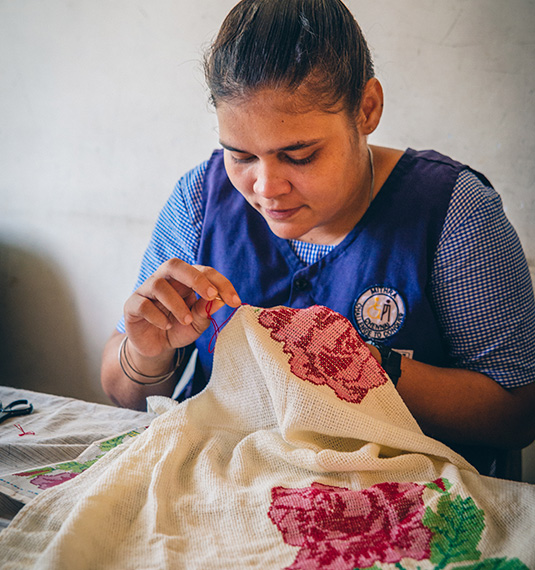 No Mithra is not an orphanage. It is a rehabilitation centre for children and young adults with either intellectual or physical disabilities or both. Most children and young people who benefit from Mithra's services reside at Mithra because they live too far away for daily public transport, and because they require more help than their parents are able to manage. 
Since the beginning in 1977, many of the children have learned and developed independent living skills. They have returned home and found simple jobs. Others, however, have such severe disabilities, that they have stayed on at Mithra. The challenge for the staff at Mithra has been to find meaningful tasks and teach vocational skills that enable these, now young adults, to engage in meaningful and productive jobs. Some of these vocational tasks include: producing shopping bags, making greeting cards, making jewellery, sewing, envelope-making and candle making. Many of these products are sold.
Who are the Servite Sisters?
When her own congregation, the Franciscan Missionaries of Mary, were unable to expand into this new ministry at Mithra, Sr Mary Theodore's dreamed of starting her own little congregation. Some girls joined but stayed only a short while. Sr Mary Theodore was overstretched establishing Mithra. She had little time for the formation of young Sisters. Her greatest, desire, however, was to have young Indian Sisters to carry on her work. From the earliest days, Sister Mary Theodore had a close association with the Servite Friars from Italy who had established a presence in Chennai. Towards the end of her life she asked the priests whether they could find a congregation of Sisters to join her in the special ministry to the poor.  To her delight, in her final years, three Sisters from The Congregation of the Sisters Servants of Our Lady of Sorrows came from Kerala to join in her special mission to the poor. Sr Mary Theodore referred to these Sisters as her "Angels". The Servite Sisters continue to dedicate their lives to the well-being of the children and young people of Mithra. 
Read more about the Sisters here.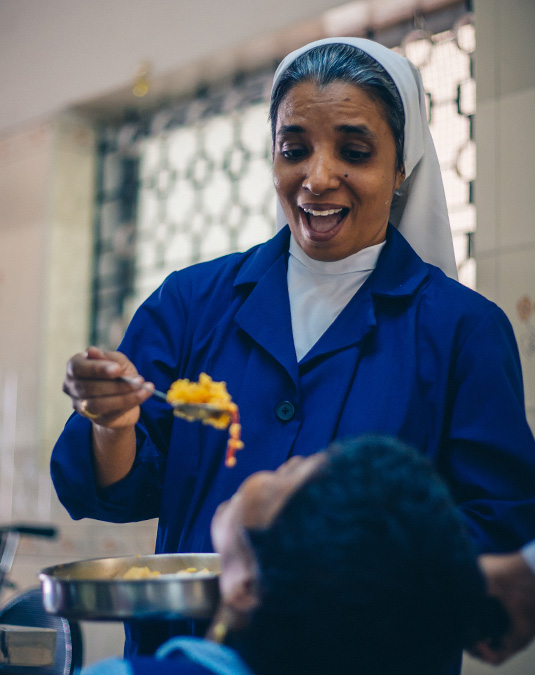 What is the difference between charity & sustainable development?
Sr Mary's Theodore's vision for MITHRA was never to create a nursing home. Although the language now sounds politically incorrect and jars on the visitor's ears, Sr Mary Theodore's vision is captured in the name and acronym she chose for MITHRA – "The Madras Institute to habilitate retarded, afflicted." And her motto, "Challenge To Conquer", points to her belief that MITHRA was founded to help every child reach his or her potential. MITHRA is also the Sanskrit word for friendship.
Donations to MITHRA have been towards capital projects, to provide buildings that facilitate education and rehabilitations services, as well as provide money for the recurrent needs such as staff salaries and providing food for the children.
Those responsible for keeping MITHRA viable are constantly looking for ways to become more self sufficient and less reliant on foreign donations. However, the needs are so great, total self-sufficiency is still a long way off.