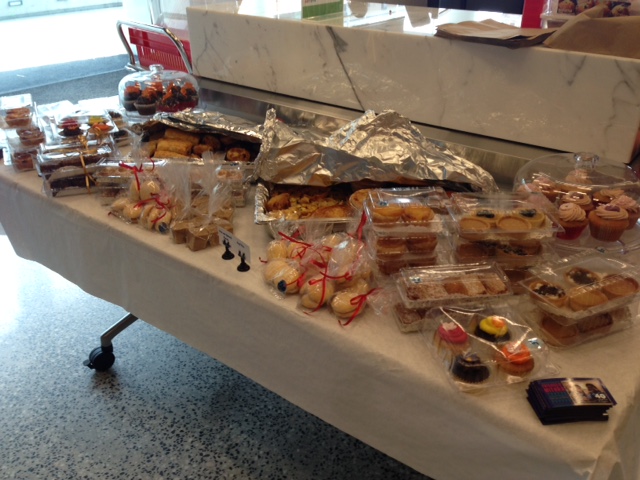 Heidi Batson & Kris Stacey are Mithra Champions. They held their first social activity for 2017 at Queensland University of Technology, South Brisbane. It was a very successful Bake Sale held on Monday, March 20th in the Reception area of the Centre for Children's Health Research.
Heidi & Kris, who were stalwarts with the catering for the Launch of Friends of Mithra website at St Rita's College last August, decided to hold their own Friends of Mithra Fundraising event and informed all the staff and students at QUT that the proceeds of their Bake Sale would be given to Friends of Mithra to assist with the 40th Anniversary Building Appeal.
Heidi reports: "The Bake Sale held at CCHR for MITHRA was indeed very successful – we sold every bit of food – with the last 2 cup cakes going this morning!  Kris spent the morning promoting and selling the goods at the reception of CCHR. Suzy Smerdon did a wonderful job supplying the stall with 2 types of slice and a couple of staff contributed to the stall too! I had an arrangement of goodies – Sausage Rolls (2 types); Pies (2 types), Quiches, Tarts (4 types), Slices (3 Types), Cupcakes, Cakes, fudge etc. Kris is part of the CCHR family now and is well known and liked by research staff and student – she did a brilliant job as always!"
Heidi and Kris raised over $400 from the Bake Sale, $40 from the sale of Mithra Bears, and collected a donation from a long time friend Sr Mary Theodore.
We are very grateful to these ladies for taking the initiative to set up their own Fundraiser. We hope many of our well wishers will follow the example of Heidi & Kris and create their own Fundraiser – large or small.