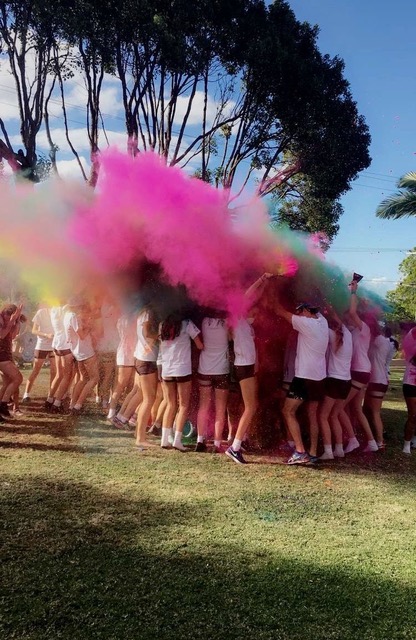 Colour has filled the air at St Rita's College, with more than 400 students raising money to establish a computer laboratory for the intellectually and physically challenged children of Mithra in India.
Inspired by the Hindu Holi Festival, also known as the Celebration of Colour, bags of coloured powder rained through the air of the College's Hogan Place, enveloping staff and students in a glorious rainbow of colour.
Year 12 student and College Vice Captain Sacha Cartwright said the idea came about over dinner when they were visiting India last year and took three months of planning and organisation.
"We wanted an event that people would have meaningful fun being part of, so that we could raise money and awareness about Mithra," she said. "It was a very unique event for St Rita's and I think this was one of the reasons why the girls and staff got behind it."
"It also makes the girls very proud to be a part of St Rita's, and allows them to realise how much they have to give."
ColourFest was born for the College's ongoing India Immersion program, through which Year 11 students of the College support the poor and marginalised in Chennai, including visits to Mithra, secondary schools, a remote nursery and primary school and a hospital dispensary.
"Mithra, as well as many disadvantaged groups and places, are always in need of more support and so an event like the ColourFest provides an opportunity for students to support a great cause, while still having fun," Sasha Cartwright said.
"I hope it has raised a lot of awareness about Mithra, as it is such an amazing place with so many inspiring people."
The Immersion program of the College opens the girls of St Rita's to vast cultural difference, the causes and consequences of poverty and social discrimination.
Students spend one week each September at Mithra Rehabilitation Centre working with the staff and students of this extraordinary rehabilitation centre and living out the meaning of the word 'Mithra' – from the Sanskrit for 'friend'.
St Rita's offers the girls of Years 10 and 11 an inspiring and distinctive immersion program that encompasses the communities of Murgon, Cape York and Longreach in Queensland, Cambodia and India. The girls are encouraged to voyage beyond what is comfortable and to confront what is culturally difficult, and to live out a responsibility which empathises with the poor and marginalised and advocates on their behalf.
Across the curriculum, students study a range of social justice issues including Indigenous experiences of injustice, the status of women and the rights of the girl child, the mandatory detention of refugees, global inequality, homelessness and environmental degradation.
Mrs Anna Roberts
Manager, Community Development