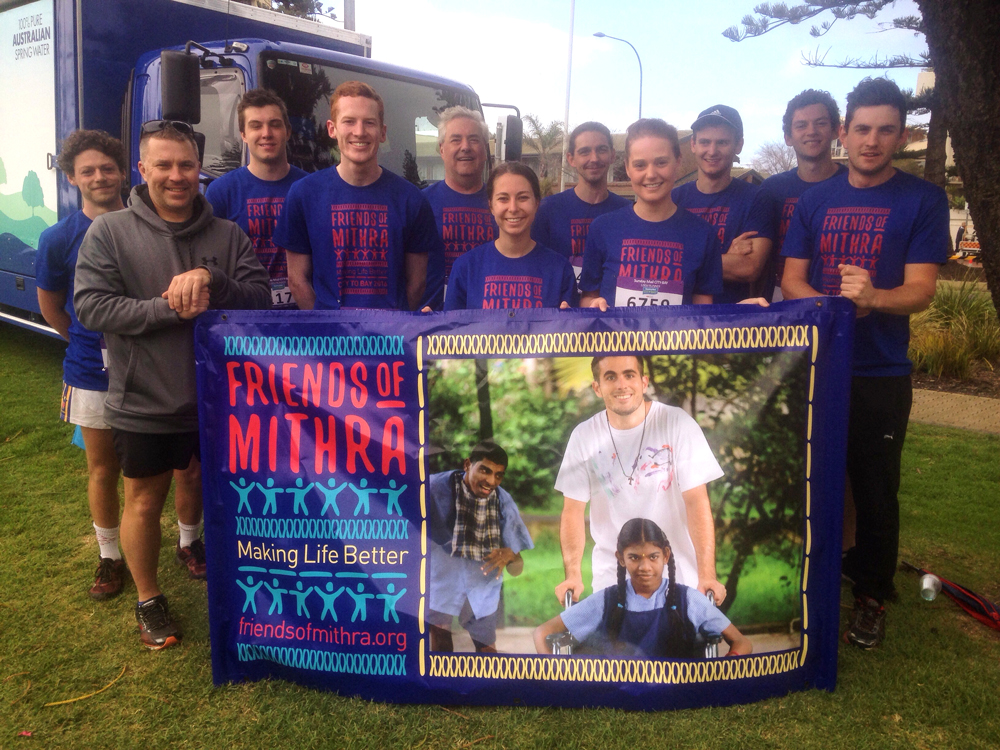 After weeks of training for some and after a last minute decision to register for others, 22 Friends of Mithra runners and walkers braved the showers and a crisp Spring morning to participate in the 2016 Sunday Mail City-Bay. The morning was a great success. A number of personal bests were run, whilst a few were just glad to reach the finish line. Thanks to the team at Silver Fleece, our runners and walkers stood out from the crowd moving down Anzac Highway, with radiant royal blue Friends of Mithra t-shirts. One of our runners, Peter Ormandy said the following about the morning:
"The City-Bay was a terrific way to get friends and family together for a challenge and raise some money for those in need. When I heard about the Friends of Mithra team and its goal to raise $5,000 to provide important services for physically and mentally challenged children in India, I decided it was time to dust off the runners and rattle the tin!"
"We have so much in our lives and really a lot of this simply comes down to good luck. For those that have not been as fortunate, I always think it is important to provide support in any meaningful way. Efforts such as running 12 kilometres and raising some money along the way might appear small on its own, but these things tend to build on themselves as more people become aware of the importance of the services required for these physically and mentally challenged children in India. Friends of Mithra is definitely a group worth supporting."
The team raised over $5,200 for the event. A big thank you goes out to all of our participants for getting involved, raising awareness and raising funds for Mithra. A special thank you goes to Peter Ormandy for his significant fundraising efforts. We would also like to thank Steph and Jonathon Hamra from Hula Hoop for generously sponsoring the prize for the most funds raised.
The Sunday Mail City-Bay is an event Friends of Mithra will continue to build on from year to year in Adelaide.
Donate to one of our participants here.
If you would like to support Friends of Mithra, visit our Donate page.