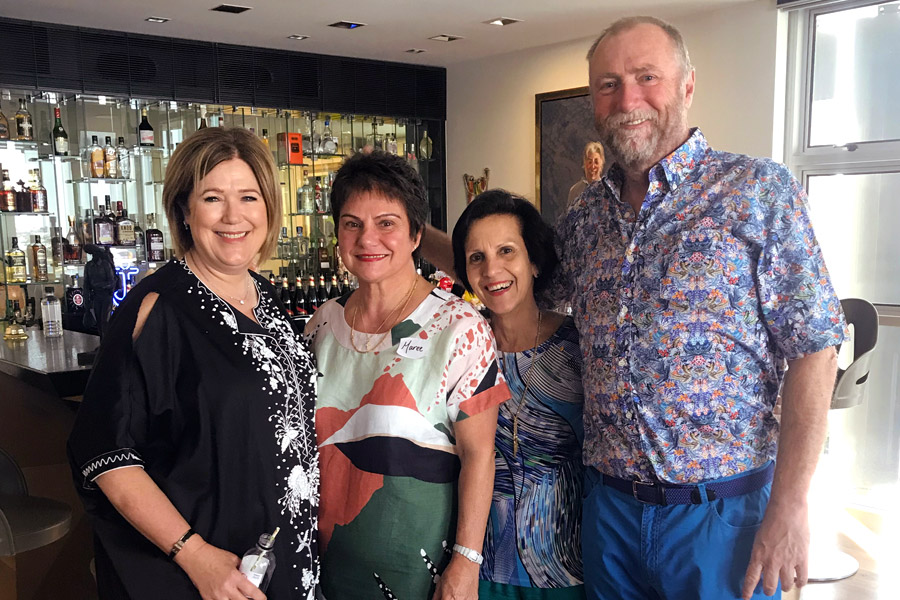 It was a beautiful, sunny Sunday afternoon when we gathered at Ingrid and Andy's apartment in Brisbane. This was the second time they had opened their place and welcomed about 100 friends and family to raise money for Mithra. While enjoying champagne and amazing food from Hawthorne Garage and Heidi Batson, guests were able to purchase some beautiful items handmade by the Children at Mithra. There were greeting cards with patterns sewn in silk thread, table cloths, wine bags and gift bags with block print designs and tablecloths hand-stitched with hearts, clubs, spades and diamonds.
Guests watched a moving video showing Mithra and its students and heard from Paul Flanders, principal of the Edmund Rice Flexible Schools who has recently returned from a trip to India with 8 students and 4 teachers. He spoke emotionally about the lives of the students on the trip and the personal struggles they put aside to travel to Mithra and experience its magic.
Three boys from St Joseph's Gregory Terrace also spoke about their recent experience in Mithra. All were moved by the teachers and Sisters and the hard work and commitment they show every day to care for and teach the special students at Mithra. By the end of the afternoon, all merchandise had been sold and many generous donations had been given. We thank everyone for their attendance and interest in helping Friends of Mithra continue to support the work of Sister Mary Theodore.
Have a look at our gallery of photos from the afternoon below!