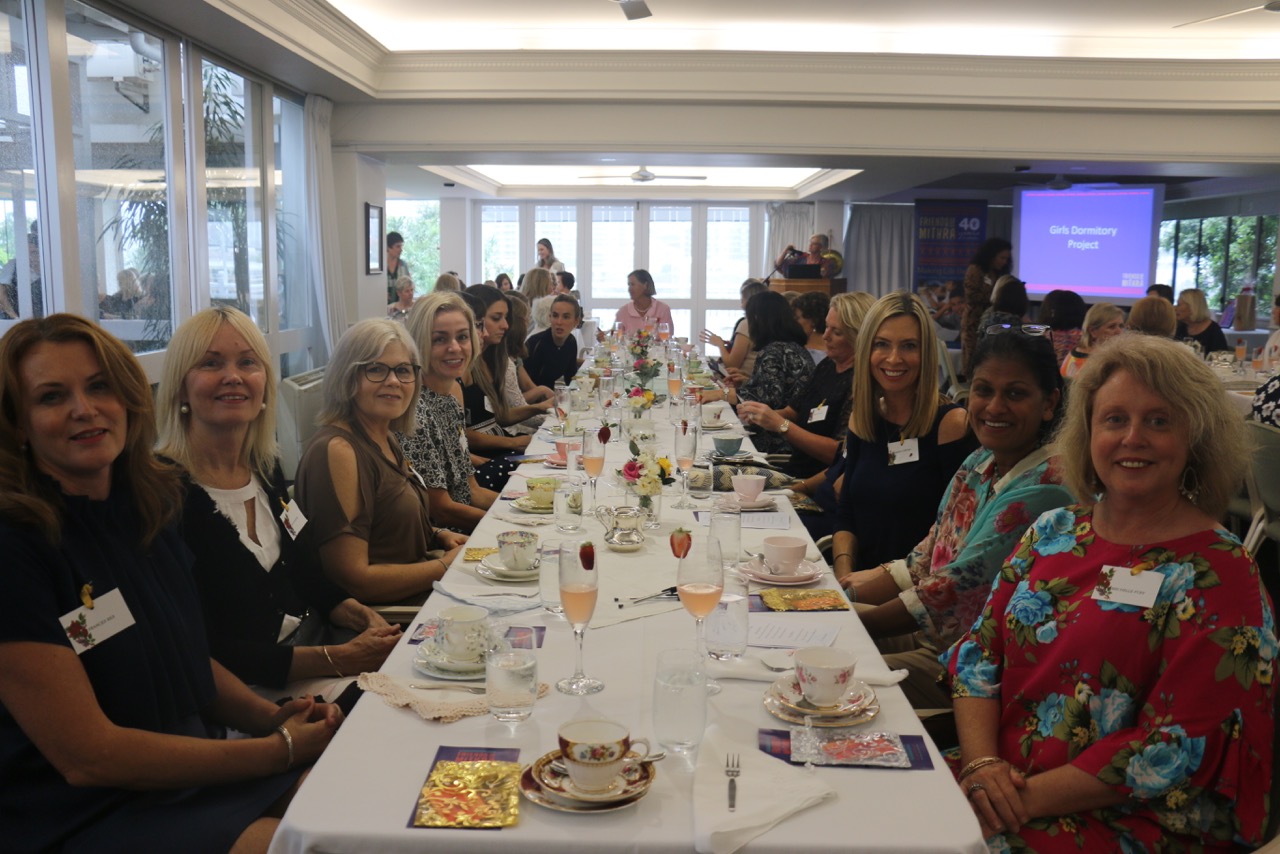 Friends of Mithra were treated to a wonderful High Tea hosted by Dr Edith Hampson on Sunday 15th October. Dr Hampson brought together 100 women from across Brisbane to enjoy a wonderful afternoon at the delightful Moreton Club in New Farm with stunning views over the Brisbane River and City.
Unfortunately the weather was not too kind and Brisbane experienced a deluge throughout the day, but that did not dampen the enthusiasm of the guests who enjoyed a wonderful menu of freshly made scones, cucumber and chicken sandwiches along with a variety of frittas and a range of sweet, delectable morsels.
We were very grateful to have some delightful prizes donated for our raffle. Margaret and Susan Rix kindly donated a beautiful 43 cm freshwater pearl necklace and, earlier in the year, Annita Dougherty presented us with three exceptional bottles of Wendouree Shiraz, one of which we raffled at the event. Third prize was a gift bag of beautiful handcraft items from Mithra.
It was very much a mother's and daughter's afternoon with most guests treating members of their family to the event. A number of mothers of students from St. Joseph's College at Gregory Terrace attended, as their sons were part of a group of students who visited Mithra in 2017.
Guest speaker for the afternoon was Ms Catherine Allen, Deputy Principal Students from St. Rita's College at Clayfield. Ms Allen spoke enthusiastically about her journey to Mithra last year when, along with St. Rita's mother, Katie Cox, and Assistant Principal Mission, Mr. Richard Rogusz and a group of Year 11 students, they visited Mithra for five days.
It was the first time students from St Rita's had spent time at Mithra and plans are now well underway for the next cohort to visit in 2018. Ms Allen gave an insight into the wide range of activities at Mithra that allowed her students to participate in the everyday life there and to come away with a renewed acceptance for those less fortunate and for those who are differently abled.
The High Tea presented an opportunity for friends to meet up, for new friends to be made and for all present to enjoy a very relaxed day with Friends of Mithra. We are indeed grateful to Dr Hampson, to the staff at The Moreton Club and to all who made the High Tea a truly delightful afternoon.