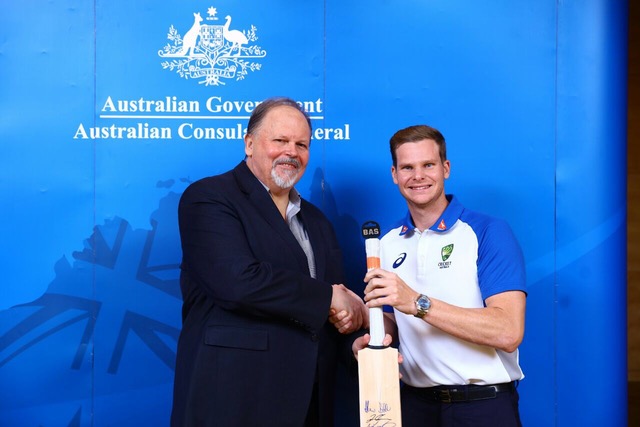 The Australian Consulate General Chennai hosted the visit of Gideon Haigh, a popular and acclaimed independent journalist who has written for more than 30 years about cricket. Haigh has contributed to more than a hundred newspapers and magazines, and written 33 books, 22 of them about cricket. He published his first book titled The Cricket War: The Inside Story of Kerry Packer's World Series Cricket, in 1993.
As part of this visit, Haigh participated in various outreach programs in the city including lectures at the Asian College of Journalism and IIT Madras. Gideon also visited the office of the English daily, 'The Hindu' interacted with journalists and visited their archives reliving some of Cricket's historic moments captured in print from era's gone by.
Celebrating the game of Cricket and Gideon's visit to Chennai, Australian Consulate General, Chennai announced the winners of a silent auction of two bats autographed by the Australian cricket team during their recent visit to Chennai. Proceeds of this auction was donated to Mithra a rehabilitation centre in Chennai set up by Australian Catholic Nun Sister Mary Theodore for intellectually and physically challenged children primarily from the underprivileged community. Over $4000 was raised as a result of the auction.
 Ishara Davey
Second Secretary and Consul
Australian Consulate-General, Chennai