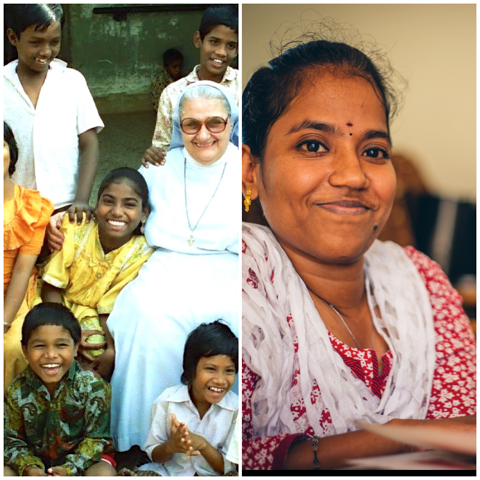 My Challenge to Conquer
Hi, I am Prabhavathi. I was born into a modest rural family. My father has been a construction worker and my mother a homemaker. I have two brothers and a sister. Early in my childhood my parents observed some physical disabilities in me.
Thinking it was poliomyelitis they admitted me to a centre where I stayed till I completed my 3rd grade. At the age of nine my parents observed that I had other disabilities related to my muscular system, spine and neck, which aggravated my motor abilities.
That is when I was admitted in MITHRA in 1998 at the age of nine. This was the beginning of a wonderful journey in my life. At MITHRA I was diagnosed to also have muscular dystrophy. I was given all the necessary support as well as physiotherapy to help me to become more mobile. There was considerable improvement in my upper limbs, but I had to always use the wheelchair and needed the help of a caregiver for my personal needs.
In the meantime finding my intellectual capacity and the fact that I had already completed 3rd grade, I was encouraged to pursue my academic career further. I was not, however, in a position to attend any school on a daily basis. It was at this time parents of another multiple disabled boy in MITHRA suggested to the founder, our dear Sr Mary Theodore OAM that I can be prepared to pursue my studies under the National Open School curriculum without having to go out daily and attend an outside school. So I restarted my studies with the mother of this boy being my first teacher in mathematics. Thereafter with the help of many more volunteers consisting of parents at MITHRA, other individual volunteers from outside as well as from other NGOs, schools and colleges I studied different subjects and successfully completed 10th and 12th grades. Due to my impairment I could not write the examinations on my own. MITHRA arranged for scribes from willing volunteers from schools who wrote the answers I dictated to them.
After completing 12th grade with distinction I was encouraged to study further in the undergraduate level through the Tamil Nadu Open University system. I enrolled choosing Sociology as my option, and studied under the guidance of learned volunteers. Eventually I completed my B.A. Degree in Sociology in March 2018.
During these years I was also given an opportunity to learn computer applications with the help of professionals from other NGOs. I have acquired fairly good working knowledge of computer applications like Microsoft Office. I would like to enhance my skills in more areas like Tally Solutions etc.
At present I undergo Physiotherapy daily. I also teach the basics of computer to other challenged children at MITHRA. I am also preparing the computerised database of all children at MITHRA and the data for the " Unique ID" for all disabled in MITHRA under a National programme of Government of India.
I owe a deep debt of gratitude to Sister Mary Theodore OAM, Founder of MITHRA for all the help and support. She was truly like a mother to me and all the other children of MITHRA. I also thank all the Staff, Volunteers, Caregivers and Friends from Overseas for their assistance in my journey for a better quality of life.
In the future I hope to acquire more skills, which will enable me to give back to MITHRA my services in my own humble way for all it has done for me.
Friends of Mithra and all Australian friends and volunteers send their love and congratulations to Praba on her many remarkable achievements and the wonderful example she gives to all of us and especially the other children of MITHRA.