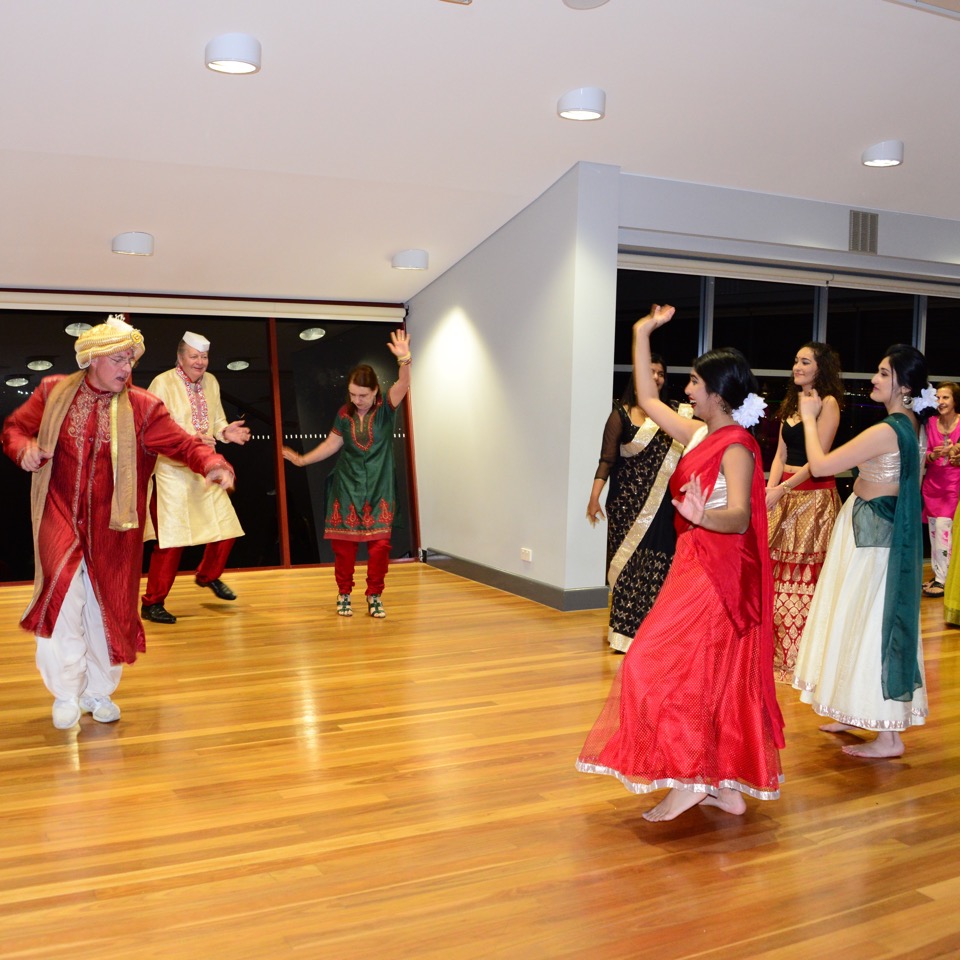 Joyous Bollywood dancing was the central theme of Friends of Mithra's fundraising event held at St Rita's College, Clayfield in early September. More than 140 people dressed in "something Indian" attended the fun night to help raise much-needed funds for MITHRA Rehabilitation Centre in Chennai, India.
Mrs Helen Mahoney, a niece of Sr Mary Theodore, gave a short and moving video presentation of the life of Sr Mary Theodore, who left Brisbane for India as a very young nun in the 1950s, and how Sr Mary Theodore responded to the most marginalised children in Madras – poor children with special needs. Recognising their potential, it was her dream to educate and rehabilitate these neglected children; so she founded the MITHRA Centre in the heart of Anna Nagar. Br Rob Callen explained that Friends of Mithra is committed to keeping Sr Mary Theodore's dream alive by raising funds in Australia to keep MITHRA viable. He invited guests to consider making a monthly gift to support the children of MITHRA.
Interspersed between the speeches, the delicious courses of Indian cuisine supplied by Dosa Hut and desert made by Mrs Heidi Batson, were brackets of amazing and vibrant Bollywood dancing provided by four energetic dancers from Soul Bollywood. Heshanie Tennkoon, Bhavisha Maneklal, Sandesh Kumar and Yashan Thilakaratne certainly lived up to their claim: "At Soul Bollywood we are dedicated to presenting heartfelt, high energy and soulful performances to friendly audiences." We thank Dr Preethi Suraj for making this happen.
At one stage, in honour of Fathers Day, gentlemen from the audience were invited to join the dancers to compete for a prize. There was no shortage of volunteer participants, nor lack of enthusiasm and energy. Rob McDougall won with his extraordinary exhibition! Mrs Carmel Ellis won the prize for most authentic Indian dress.
Two groups of students were present at the dinner: fourteen Year 10 boys from St Joseph's College, Gregory Terrace, and twelve Year 11 girls from St Rita's College, Clayfield. The boys will be heading for India on Tuesday morning and the girls heading over at the end of September. Both groups will have the privilege of visiting and spending some time with the children of MITHRA. Some parents of students from Ambrose Treacy College were also present and their sons will be heading to India and MITHRA in late November. Students who spend time with the children of MITHRA find it a transformative experience. The Australian connection with MITHRA is very important for everybody.
The Bollywood Night was a huge success. Everyone enjoyed themselves thoroughly and hope it might become an annual event. Such events are not possible without the tireless efforts of a small band of volunteers. Marnie Venturini, Helen Mahoney and their band of helpers planned, prepared, set up and cleaned up before and after the event. Special thanks must be given to Mr Richard Rogusz and St Rita's College for providing the beautiful amenities free of charge.
Finally, on behalf of the children of MITHRA, we extend our sincere thanks to everyone who made the evening such a memorable success.
Donations can be made here
More photos can be found on  our Facebook page: