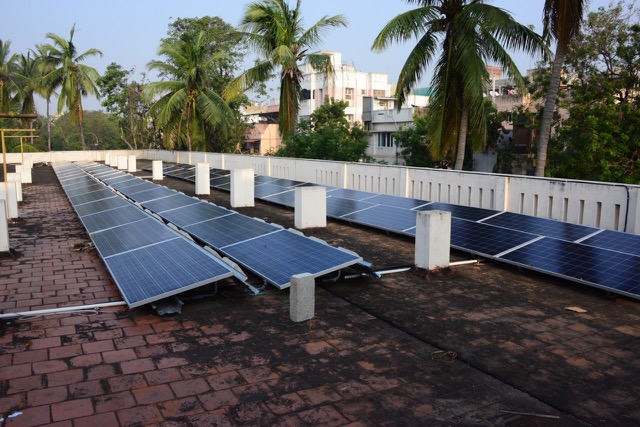 Throughout her many years in India Sr Mary Theodore never forgot her other home – Australia. She welcomed countless Australian visitors, including the Australian High Commissioner from Delhi and successive Australian Consuls in Chennai. Mrs Janette Howard was also a guest of honour. Even Australian servicemen from visiting Australian warships came to Mithra to lend a hand. Sr Mary Theodore was always delighted to meet and host the many Australian students on their school pilgrimages and immersion trips.
This close association of Mithra and the Australian Consulate in Chennai has been very beneficial for Mithra, as each Consul has sought to assist with various needs at Mithra. Indeed, 2016 was a particularly good year when the Consul responded positively to a request from Mithra for a grant for assistance with the purchase of solar panels. One of Mithra's greatest expenses is electricity.
The application for the grant was lodged with the Direct Aid Program (DAP) through the Consulate in Chennai.  Everyone was delighted when a grant was approved. The installation of solar panels on the roof of the Boys' dormitory was completed by late December and they assist with the power requirement in the dormitories, the dining hall and the Sisters' convent. Hopefully in the future, more panels can be purchased for the school, the administration and other services. We are very hopeful that the solar project will allow Mithra to cut their power costs considerably.
Our thanks must go to Mr Jon Bonnar, Deputy Consul General, Ms Sophie Smith, Second Secretary and Consul and Ms Svetha Venkatram, Government Relations & Research Manager at the Australian Consulate in Chennai, for their dedicated assistance with the application and subsequent grant process.
If you would like to support Friends of Mithra, visit our Donate page.