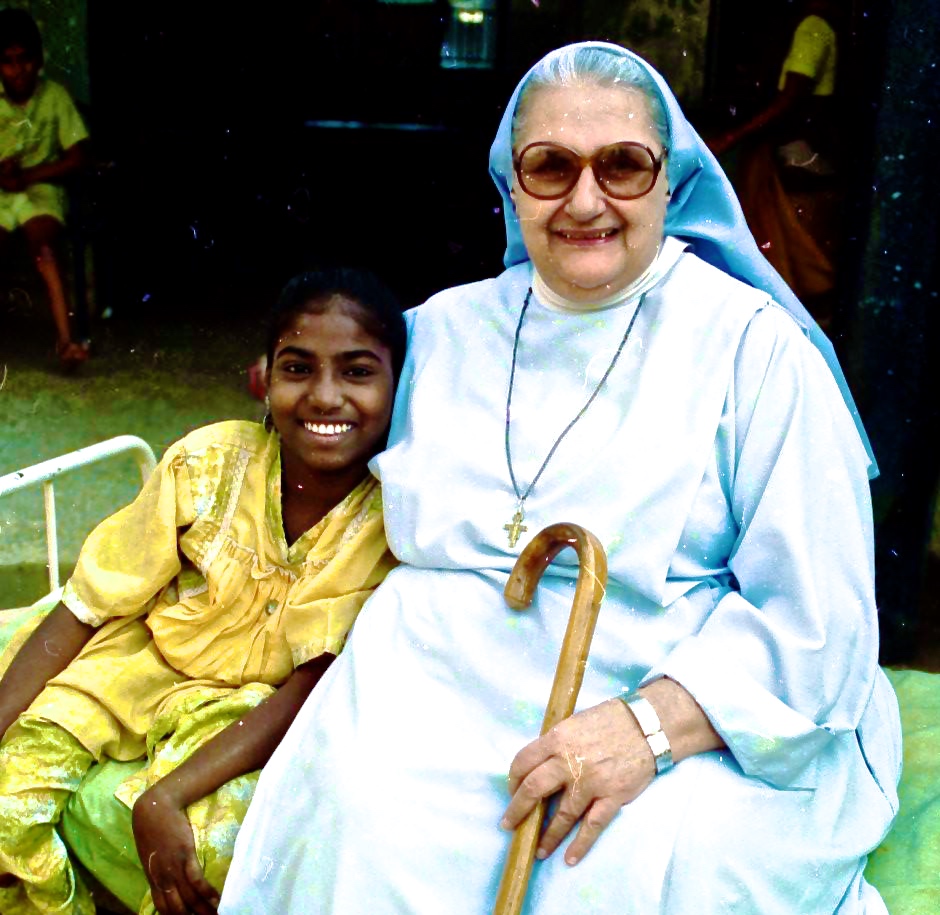 [Article taken from The Catholic Leader, Brisbane, 6 Feb, 2017]
RELATIVES of a Brisbane-born nun who spent her final years in Chennai caring for children and adults with disabilities have launched a new charity to support the Indian mission.
Friends of Mithra is an Australian-registered charity set up to fund the works established by Sr Mary Theodore, a Brisbane-born Lebanese religious sister who died in 2012.
Sr Mary Theodore, who called herself "God's donkey" because of the animal's obedience and stubbornness, was a Franciscan Missionary of Mary who served in Chennai from 1951.
Her eyes fell on "the forgotten section of humanity" and, feeling drawn to serve children and young adults with physical and mental disabilities, she requested to leave her order of 20 years, which could not support her dreams to open a centre in Chennai.
In 1977 she opened Mithra, or Madras Institute to habilitate retarded, afflicted, and turned to her Australian family for financial support.
Her niece Helen Mahoney remembers having weekly phone calls with her aunt when she was trying to buy land for a centre.
The Indian government had offered the religious sister "a swamp" which she got filled and levelled to build "mud huts".
"It was full of water, a horrible place," Mrs Mahoney said.
"But she knew what she wanted to do.
"In fact she had no cooking facilities – didn't matter.
"She was very clever in the way she secured it for the poor and handicapped so no one can really take it, not even the archbishop, not even the Church."
The Australian also understood the importance of spiritual care for the poor, inviting the Servites of the Seven Sorrows of Mary to take over the centre before she died.
The Pauline Fathers also have a home at Mithra, receiving the "deal of the century" from Sr Mary Theodore.
"They needed to build a church somewhere … and the parish priest was a great friend of hers, and he was telling her this story that he was looking everywhere for land, and she just piped up and said, 'Well, you haven't asked me'," Mrs Mahoney said.
"She said, 'I'll let you have some land if you build a church here'.
"He said, 'What do you want for it?', and she said 'I want Mass every day, that's the deal'.
"When I got there and saw the contract, I said, 'These priests, they got the deal of the century', and she said 'Stay out of it. I got what I wanted'."
The children and young adults in the centre all have mental and physical disabilities, most of them dependent on round-the-clock care.
Their favourite person in the world was always Sr Mary Theodore.
Getting by on the generosity of others
Sr Mary Theodore lived off the donations from Australia and other parts of the world, sometimes waiting several days for her next meal.
She and the centre garnered media attention, most notably from 60 Minutes journalist Jennifer Byrnes and Ray Martin when he hosted The Midday Show, and she received the Order of Australia medal.
Australians began visiting on immersion trips, many coming from Brisbane Catholic schools.
But it is the Indian people who love her the most.
Even during her funeral there, the women threw rose petals on the ground so her body never touched the ground.
At the end of 2015, a group of men had returned from Mithra after South India had a devastating series of floods.
"And they came home – these are young men in their 40s – they came home and they said we need to do something to help them to get the buildings back in order, to get new buildings for them," Mrs Mahoney said.
Friends of Mithra was born, with Mrs Mahoney on the committee, and her own sons and husband lending a hand to support fundraisers in Brisbane.
"So we've been working hard, non-stop, and we're getting close to having enough money to start what we call the Sr Mary Theodore Health Centre," she said.
"It will be a centre that will hold all the health facilities (for Mithra)."
Mrs Mahoney said the charity was in discussions with the Australian Medical Association Queensland to sponsor medical equipment for the centre.
The charity also has the support of the University of Queensland chancellor Peter Varghese who was a close friend of Sr Mary Theodore in his previous role as Australian High Commissioner in Delhi.
The Australian High Commission in India and Australian Consulate General in Chennai are also supportive of the centre.
"She had friends in all the right places," Mrs Mahoney said.
"She's doing a lot more work up there than she did down here. I keep telling her that."
For more information about Mithra and their associated Australian charity, visit its official website at friendsofmithra.org.