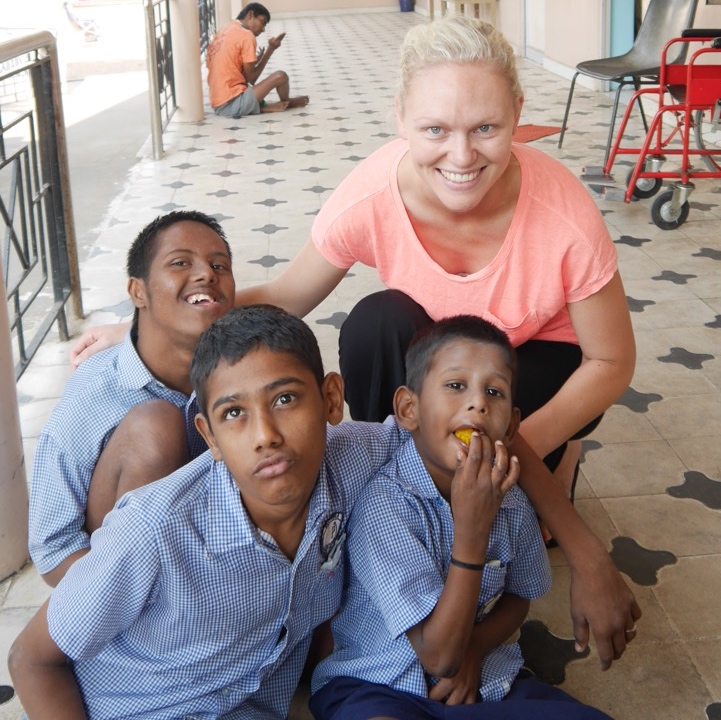 My husband Patrick has always spoken so fondly of his first visit to MITHRA in 1997 as a student of Rostrevor College, in Adelaide, so when we decided to go to India on our honeymoon in 2014 I made sure a stop in Chennai was on the itinerary!
Not having visited MITHRA, let alone India before, I really wasn't sure what to expect. Upon our arrival we were warmly welcomed by Sr Maria Rosamma, who talked to us about the fantastic work of Sr Mary Theodore and about how we could help in our time at MITHRA. For most of the year, MITHRA runs independently, without the involvement of volunteers, however Sr Rosamma told us that visits from people like us really helped to brighten the children's days by adding some variation to their routine and by giving them some new friends to get to know and play with!
Throughout our week at MITHRA we helped in the classroom with reading, writing and drawing and we participated in physical therapy sessions to assist children in their rehabilitation programs. We watched with amazement at the art and craft projects the children were undertaking and even purchased some embroidered pillowcases to bring home as gifts for family and friends. We played games with the children and gave them balloons to blow up, which seemed to entertain them for hours on end.
We tried to help the children at mealtimes to eat their dinner, but quickly discovered that they have their own "system" developed where they each sit next to a friend that can help them with something they're not able to do themselves. It was absolutely amazing to watch all of the children help each other until each and every child had finished dinner. All we could do to help was clean up their cups and bowls once they were finished!
Our experience at MITHRA taught us so many things. The children we formed friendships with at MITHRA were some of the happiest children we've ever come across, so that taught us that no matter what your circumstances are, you can still CHOOSE to be happy. We learnt that even if you have a physical or mental impairment, that you can still be helpful to a friend in doing something for them that they may not be able to do themselves. We learnt that love, compassion and generosity can go such a long way in making a difference in a child's life, and last but not least, we learnt that laughter is still the best medicine!
To anyone thinking about visiting MITHRA, all I can say is that you should feel lucky to have the opportunity to meet the wonderful children and staff there. It will be a memory you will cherish forever and it will change the way you think about the world, for the better!
Bec Murphy
             Adelaide, SA