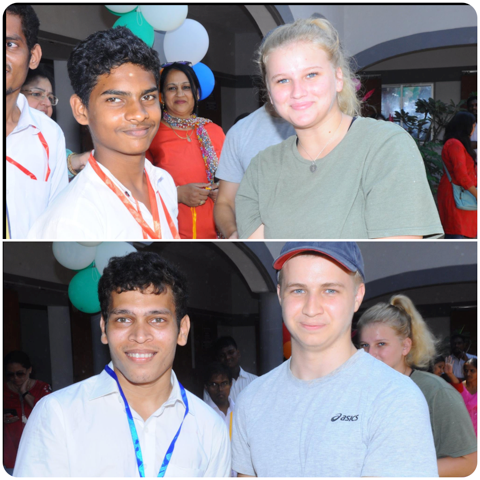 The moment after stepping off the bus at Mithra, my brother and I were amazed at how we were immediately welcomed and greeted by the children. In Australia kids would not be so confident and warm in their greeting of a guest. Over the next seven days, I realised that this was a common theme at Mithra; despite the heavy burden of their disabilities, the Mithra children always ensured that any guest felt welcome and was a friend of theirs.
Reflecting on my time at Mithra has allowed me to recollect and digest the experiences and memories of the seven days that we spent there.
It cannot be overstated how extraordinary these children are. Where they are disabled in one aspect of life, they are more than able in any and every other aspect of life. One particular case of this was a young boy named 'Asin', who despite being mentally challenged was always able to participate in the various physical sports activities, such as cricket or football, at his utmost best. He was also one of the friendliest and most outgoing kids I had ever met. In meeting children like Asin, we came to understanding the integral role of the staff in the development of these extraordinary children.
Whether it was teaching English classes or wheeling children to and from the dining room, such experiences have provided us with a keen insight into not only the lives of the children, but also into the lives of the staff, Sisters, parents and volunteers at Mithra. We have come to appreciate greatly the work that all of the community do to help care for and nurture the children; they are absolutely fundamental to the success of Mithra and to the rehabilitation of the children. They are also some of the most caring and genuine people we have ever come across – always putting the needs of the children above their own.
Comparing the harsh realities of life in India to the laid back and privileged lifestyle that most Australians enjoy, made us realise how truly lucky we all are. We believe that after witnessing what we have witnessed at Mithra, we have a responsibility as privileged and able people to use our resources – whether it is our time, money or talents – in a coordinated effort to improve these children's lives.
One lasting memory of Mithra that we will always hold in our hearts, was the farewell from of all the children. They thanked us for spending time with them and sincerely asked us when we going to come back to visit them. Just this one simple question made us understand how meaningful our relationship with the children had been.
We promised them that we would return one day
A sincere thank-you to Mrs. Helen Mahoney and Brother Rob for all of their help in bringing our Mithra trip to fruition. We truly appreciate the opportunity.
Casper and Sophie Clark-Ryan, February 2018