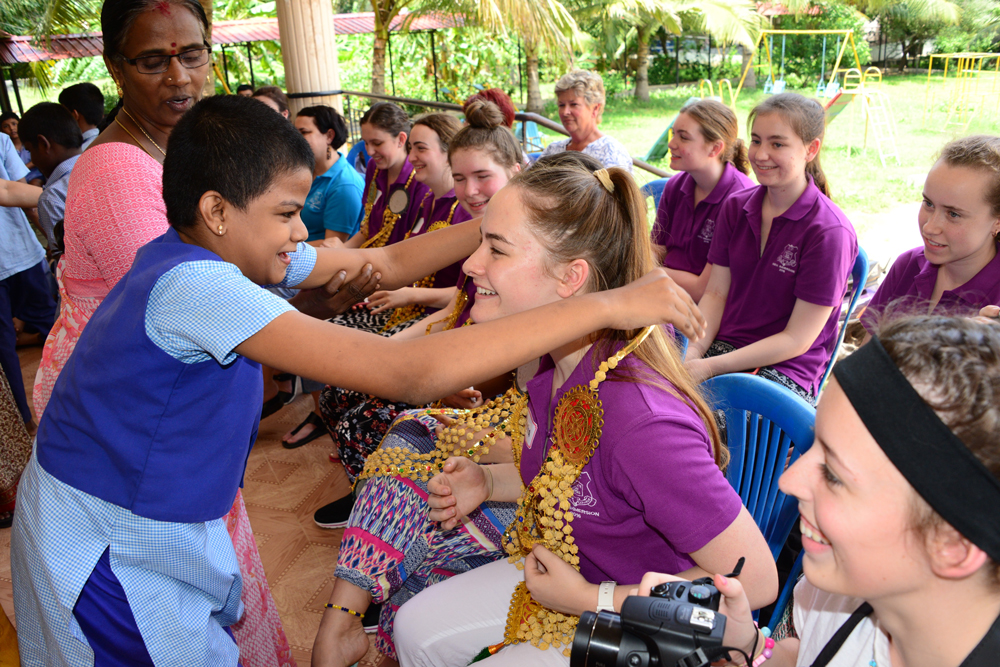 In the middle of one steamy, hot night in mid-September, ten tired Year 11 girls and three staff members from St Rita's College, landed in Chennai, to confront the hassles of Indian bureaucracy. Eventually their bus delivered them to Mithra.
But these trying conditions didn't dampen their enthusiasm for the opportunities that lay ahead. Celebrating their 90th year in the Presentation tradition, this was St Rita's first connection with Mithra. From Day One, the students and staff engaged fully with the children of Mithra. It didn't take long for the children to claim their new friends and to educate the St Rita's girls on 'just how things were done around here'! The presence of senior girls provided the children, particularly the Mithra girls, with many opportunities to engage in "girly" pursuits such as making bangles, new hairstyles, make-up and other activities. Although the boys were grateful for the bubbles and balloons, they were determined to get involved with the fingernail and toenail painting.
The St Rita's girls spent the week serving the children and learning more about the challenges that poor children with multiple disabilities face as they grow into adulthood. The girls experienced leadership as service in solidarity with the poor and marginalised. The bond between St Rita's and Mithra was firmly established with this pioneer group. The purpose of such an immersion is that these students will continue the relationship, and become advocates for the poorest of the poor in our world.
 The 2016 St Rita's College Immersion group were: Ella Andrew, Sacha Cartwright, Sophia Foldvary, Johanna McGrory, Sofia Madsen, Ashley O'Loughlin, Amy Salmon, Columbine Schlect, Lucy Shephard, Sarah Terribile, Mr Richard Rugusz, Catherine Allen, Mrs Katie Cox.
If you would like to support Friends of Mithra, visit our Donate page.